Products /
Tenacious FlowMask Pre-Taped Drop Sheet Refill
Tenacious FlowMask Pre-Taped Drop Sheet Refill
Product Code: DD760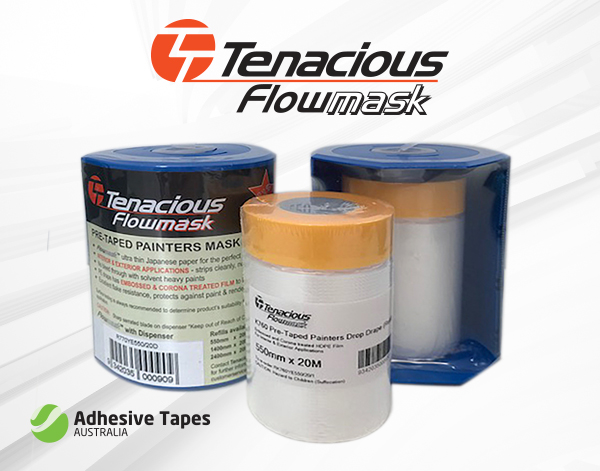 Pricing
| Order Qty. | 2700mm x 17 Meters | 1800mm x 33 Meters |
| --- | --- | --- |
| 1-23 | $8.95 | $8.95 |
| 24+ | $8.50 | $8.50 |
Description
Tenacious pre-taped drop sheets have been added to the range following the success of the K750 Flowmask™ which has proven universally popular with discerning trade painters. The masking edge afforded by the wafer thin Flowmask provides for incredibly crisp, welldefined edges to a painted surface.
The product is available in 1800mm & 2700mm drop sheets, compatible with the FlowMask dispenser
Tenacious FlowMask™ - an ultra thin Japanese Washi tape that gives a clean no-bleed edge to the paint finish. The product has high tensile strength and excellent UV stability for up to 60 Days.
This page is for the refill, dispenser not included.
Dispenser packs are also available (see link below).
Specifications
| | |
| --- | --- |
| Product Code | DD760 |
| Colour | Yellow |
| Width | 1800mm / 2700mm |
| Length | 1800mm x 33M Meters / 2700mm x 17 Meters |
| Temperature Rating | 100 Degrees Celsius |
| Quantity Per Unit | 1 Refill |