Products /
Tenacious FlowMask Pre-Taped Drop Sheet with Dispenser
Tenacious FlowMask Pre-Taped Drop Sheet with Dispenser
Product Code: DD770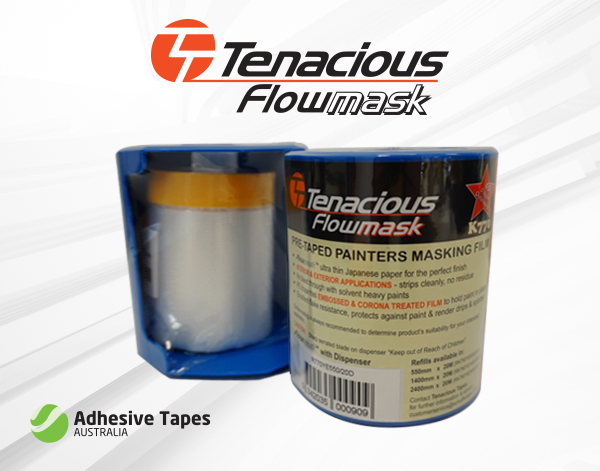 Pricing
| Order Qty. | 2700mm x 17 Meters | 1800mm x 33 Meters |
| --- | --- | --- |
| 1-8 | $13.65 | $13.65 |
| 9+ | $12.95 | $12.95 |
Description
Tenacious pre-taped drop sheets have been added to the range following the success of the K750 Flowmask™ which has proven universally popular with discerning trade painters. The masking edge afforded by the wafer thin Flowmask provides for incredibly crisp, welldefined edges to a painted surface.
The product is available in 1800mm & 2700mm drop sheets, and come in an easy to use dispenser.
Tenacious FlowMask™ - an ultra thin Japanese Washi tape that gives a clean no-bleed edge to the paint finish. The product has high tensile strength and excellent UV stability for up to 60 Days.
Refills are also available (see link below)
Specifications
| | |
| --- | --- |
| Product Code | DD770 |
| Colour | Yellow |
| Width | 1800mm / 2700mm |
| Length | 1800mm x 33M Meters / 2700mm x 17 Meters |
| Temperature Rating | 100 Degrees Celsius |
| Quantity Per Unit | 1 Dispenser with 1 Roll |